Keeping the Christmas (food) spirit alive
If anyone told me back in March that COVID-19 would manage a 1-year anniversary all the way to Christmas, I would have immediately denied it. And yet… here we are, the second, and worse, global wave of cases, lockdown, and decelerating steps away from our previous interactive reality. Nevertheless, if the pandemic has taught us anything, it is making the best out of any situation – even Christmas – for our own safety, as well as others (yes, this is a friendly reminder to at least wear your masks ya filthy animals; Home Alone pun-intended)
For many, Christmas is about reuniting with all the relatives for a joyous night, receiving the ultimate present you have waited all year round for, a break filled with festive activities and adventures… but for me, it is about the food. It is about waking up and smelling my mum's Christmas Eve menu; freshly baked olive-bread, sugar-glazed gammon, beef tips with gravy, her famous whole-grain mustard salmon fillet, roasted Greek lamb leg, turkey stuffing and most of all, her apple crumble.
SO, as many students (well, internationals at least) will have to stay in the UK, I thought what if I devised a student-friendly Christmas menu to keep those feelings of home, family and festivities in the air?
Planning your shopping and prep
I took the liberty of actually proofing the following recipes from my mum and included top tips in planning and successfully preparing your Christmas dinner. The menu will include a starter of olive-bread, paired off with a winter salad of your choice, following the main dishes of gammon and lamb leg, and finishing off with that apple crumble. FANC-A-Y!
For those who are not meat eaters, I do apologize!! But please, do see the gifs attached from My Big Fat Greek Wedding as one of the most simple explanations of Greek expectations some of our families grew up with: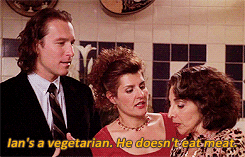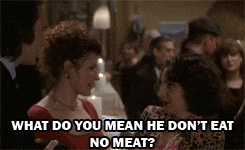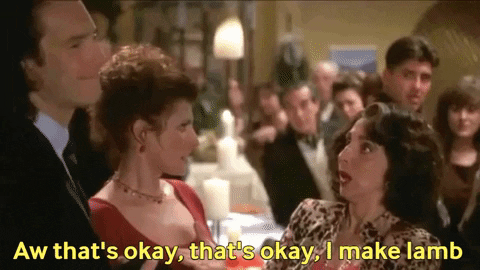 For others, get ready to "woo" your house bubble… right after you buy your ingredients found in the recipes attached here:
Step 1: Preparations for the day before
Soak the gammon and prepare, freeze, and cover the apple crumble the night before – a huge time saver!
Step 2: Start the process about 6 hours before you wish to serve
That is why mum always prepares for dinner and starts early on the day… plenty of time to plan a contingency in the case of a failed attempt or last minute invite.
As soon as you do, take out the apple crumble from the freezer to defrost.
Step 3: Start boiling the gammon next, and about an hour later start preparing the lamb to be cooked in the oven first
This is because time-wise, the lamb should be prepped and cooked as soon as the gammon is all boiled up and prepped to enter the oven next. Work those time-management skills.
LAMB TIP: MAKE WHOLES AND PRICK THE LAMB WITH THE GARLIC CLOVES FOR A MORE INTENSE FLAVOR.
Step 4: Be ready to interchange duties with the two main dishes
If my calculations above ARE correct you should find yourself busy switching from one step of one recipe to the other smoothly (…hopefully).
Step 5: Start preparing the olive bread as soon as the Lamb hits approximately 1 1/4 – 1 1/2 hour in the oven
In such a way, it will rise in time to be put in the oven while the Gammon finishes up. Plus, you can always heat up your main dishes if they get cold, but you will never be pleased with pre-heated bread. It will be served as puffy as it is when freshly-baked.
Step 6: Waiting for that bread? Let's make that salad happen
This should be a winter salad of your choice!
Step 7: After you manage to reward yourself with the outstanding meal you prepared, place the apple crumble in the oven while cleaning up
May I recommend serving it with a side of hot beverages, over Christmas music while lounging comfortably in your house space.
Voila!
Hope my effort in this blog works out for anyone who is persuaded to try this out – it was surely a great opportunity to take a break from my studies. But enough for now, I need to get some coaching practice next.
P.S: If you do try this menu out, message me your results! We can either have a proud moment or a laugh over my over-confidence.