A virtual campus tour of Warwick- Part 2
So here is part 2 of the campus tour- don't forget to check out part 1!
Social Sciences
The Social Science departments are located in the same part of campus and have recently refurbished. Inside are mini-lecture theatres and seminar rooms which are surrounded by study areas. The departments also have the lecturer's offices and each lecturer has specific office hours where you can drop in for extra help, a quick chat or explore a topic in more detail. Further support can also be gained from your department office.
The Library
The library has over 1,000,000 physical materials and many more e-books. There are also individual librarians for each department who can help you access certain resources. Each floor is suited to a different style of learning. Floors1-2 allow group work and have whiteboards, computers and collaborative desks whereas floors 3 to 5 are silent study. In addition, there are special rooms where no laptops are permitted since some people are distracted by typing noises. The library also has small sensory rooms for those who have disabilities, in these rooms the computers have reasonable adjustment programmes and apps to further support those students. On the ground floor, the LibraryCafé sells pan-cakes, hot food, sandwiches, paninis and much more. Importantly, the library is 24 hours 365 days a year-you could even go on Christmas Day! The library also runs Study Happy and de-stress workshops such as ukulele lessons or dog-petting sessions, which can be really useful breaks from studying!
The Science Park
The Science Park is the home of Mathematics, Statistics and Computer Science. WMG, which stands for Warwick Manufacturing Group, combines academia with the public and private sectors, providing students with opportunities to get assistance in applying for their work practically. They offer placements and internships, which are great for students to pursue during the summer or a year in work. Not to mention, WMG has an exciting partnership with Jaguar Land Rover, meaning there are numerous rewarding higher-level apprenticeship opportunities. Excitingly, they are working on autonomous vehicles.
The Faculty of Arts Building
This is another exciting project happening which is expected to be completed in 2021. It aims to be open, inviting and flexible, enabling collaboration, creativity and innovation for students to flourish. This space will unite all of the Faculty of Arts departments from Millburn House and the Humanities Building under one roof, and provide specialist facilities to support their work.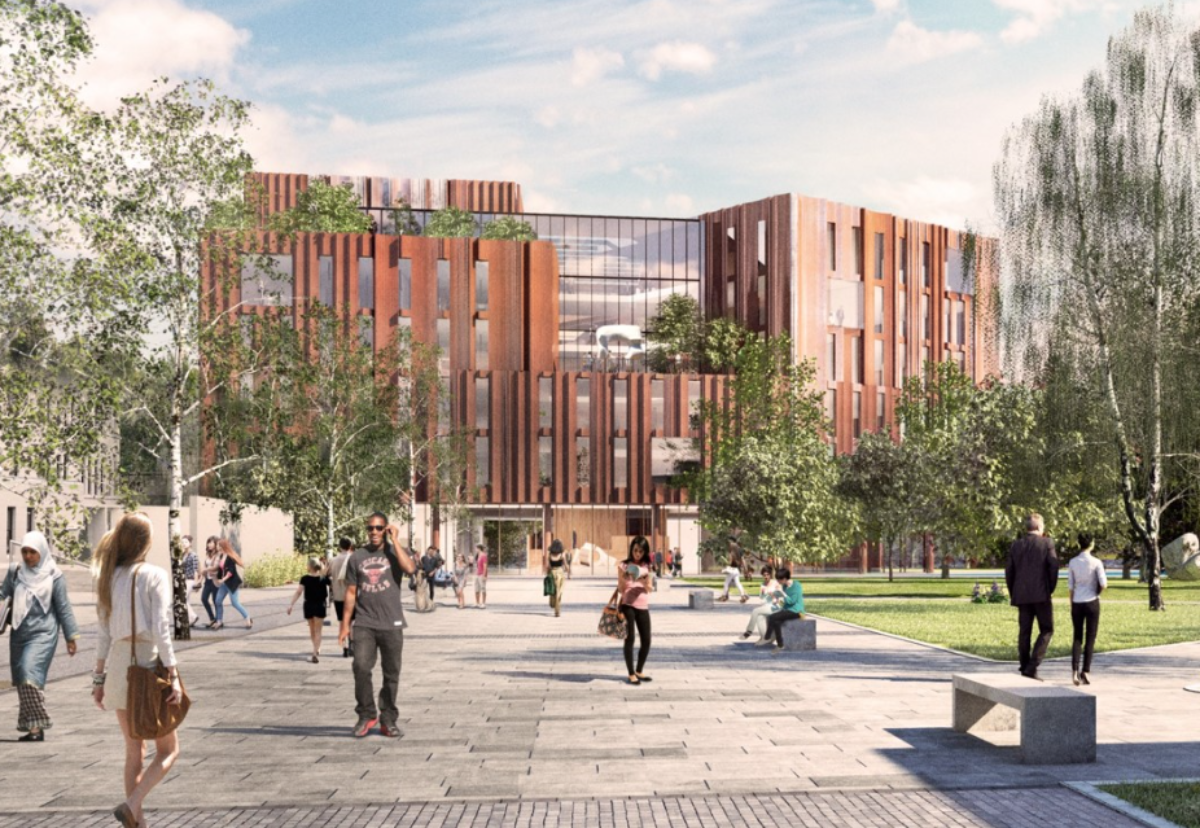 The Oculus
The Oculus is one of the newer buildings on campus, and it's a great spot for group work, personal study and lectures. The biggest lecture hall can fit up to 500 students, so they can be used for a multitude of courses and classes at Warwick. It's modernity for classrooms and lecture halls make the Oculus one of the most innovating places of study and learning on our campus. Societies and conferences are also held here, plus they serve amazing waffles.
The Health Centre and Rootes Grocery Store
Our campus is like a mini-city and has everything at your fingertips including a Health Centre, which is reassuring for parents and useful for students if you get 'Freshers Flu'! If you call early enough, they're usually great at getting you a same day appointment.
Rootes Grocery store allow you to pick up the essentials from campus. At the back of the grocery store is a bakery with fresh produce, they also make lunch-es which is great if you are in a rush. Inside the store is also the Post Office which makes it convenient for sending items or changing currency. There is also a shopping park (Cannon Park) 10 minutes from central campus with a variety of supermarkets and shops. It is also a good idea to group together as a flat and get a food delivery.
Senate House
Senate House acts as a reception for the University helping students as best they can! If you have a problem with your on-campus accommodation, finances, immigration or lose your key and student ID they're happy to assist you. Inside Senate House is Wellbeing and Disability Services.